Winter Comfort Menus
As our thoughts turn towards crisp, brisk weather and shivering customers wanting to warm up with traditional comfort food, we begin our menu planning...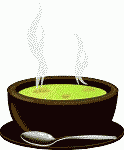 Some seasonal ideas from the Bay Gourmet kitchen:
Apples, chestnuts and persimmons are good winter friends, seperately or together, especially when paired with meats. Finely chopped persimmons and roasted chestnuts with a bit of sharp cheese and cumin (another good winter spice) make a great dressing for seared pork medallions.
Sauteed apples in black truffle butter with minced black chanterelles and a touch of Calvados provide a beautiful backdrop for rare roasted duck breast, both visually and on the discerning palate.
Firm-fleshed persimmons can serve as a base for excellent and original composed winter salads. Good pairings are nuts and nut oils, organic frisee greens, flavored vinegars, cumin and tarragon.
Chestnuts do take a lot of labor to peel. There is a very fine source of vacuum-packed, ready-peeled and cooked chestnuts from France; one supplier that carries them is Polarica of San Francisco, reachable at 1-800-GAME-USA. As long as you're on the horn with them, you might ask for a catalog that includes their fresh Hudson and Sonoma foie gras (I like the latter better than the former) and their extensive line of wild game products. I've been happy with everything there except the cervena ranched venison, which I found to be reminiscent of gamy liver in flavor and texture.
For truly tender and flavorful venison, I buy from Broken Arrow Ranch in Texas, 1-800-962-4263. Their shipping is impeccable and their product worth the premium price. They also carry other exotic meats such as antelope and ostrich.
Floral accents can also work well for winter. I particularly like lavender. You can buy food-grade dried lavender blossoms (please don't eat the commercially prepared potpourri version as it will make you ill), or use a high grade herbs du provence mixture with plenty of traditional lavender.
Saffron is another bright and cheery spice that can provide a grace note on your menus this winter. A potent saffron syrup suitable for glazing fowl or using as the base for a delicious and unique sorbet can be made by boiling down saffron in vinegar, water and sugar - adjust proportions to your own tastes; I use nearly straight vinegar when I'm planning a fowl glaze. When you have a good, brilliant yellow extraction, turn off the heat and rapidly beat in an egg yolk; do not let the sauce boil after the yolk is added or it will curdle and seperate.
A small amount of powdered saffron rubbed into a fowl's skin will produce a deep golden color after roasting, and a piquant flavor. One of the best saffron sources I know is Eastern Supplies, which can be reached at +1 (718) 574-0577. Their mailing address is POB 070760, Brooklyn, NY 11207. Their Pure Mancha Select grade can be smelled all the way across your kitchen.
It would hardly be winter without thinking of truffle season. Italian white truffles (Tuber magnatum Pico) may be shipped as as soon as November, but I have found their quality to be inferior early in the season. Perigord black truffles (Tuber melanosporum Vitt.) also will not reach their peak until December. Beware the Chinese truffle, Tuber himalayensis, which appears identical to melanosporum under simple visual inspection but is an inferior product for which you should be paying no more than $100 a pound for firm specimens with a marked mushroom odor.
Before you buy, put your black truffle specimens under a magnifying glass and look for a distinct pyramidal structure to the warts on the surface. Tuber malanosporum has gently rounded bumps; sharp, pointy little replicas of Giza are the hallmark of the inferior himalayensis, and woe betide any inept or crooked dealer trying to pass them off as melanosporum.
Oregon truffles, both black and white, are at their prime in winter as well as enjoying an additional growing season in spring. These lesser known, less expensive but delicious fungi are beginning to gain the culinary reputation they deserve on the tables of well known chefs around the world. At $100 to $200 a pound depending on season, condition and rarity, they are comparative bargains in the truffle world. An excellent source for Oregon truffles is Daniel Wheeler.
Regards,

Tanith Tyrr
Bay Gourmet
---

"When the girl returned, some hours later, she carried a tray, with a cup of fragrant tea steaming on it; and a plate piled up with very hot buttered toast, cut thick, very brown on both sides, with the butter running through the holes in it in great golden drops, like honey from the honeycomb. The smell of that buttered toast simply talked to Toad, and with no uncertain voice; talked of warm kitchens, of breakfasts on bright frosty mornings, of cosy parlour firesides on winter evenings, when one's ramble was over and slippered feet were propped on the fender, of the purring of contented cats, and the twitter of sleepy canaries."
- The Wind in the Willows, by Kenneth Grahame


---