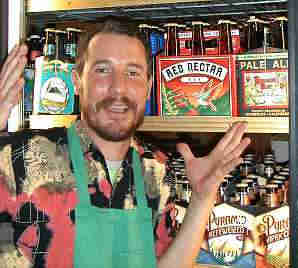 Welcome to Giovanni's! Please feel free to browse through our fine beer selection. We carry frosty cold six-packs and singles from Sam Adams, Pyramid Ale, Peet's, Guinness, Gordon Biersch, Sudwerk and more. Don't miss our fine hard ciders, and there's always a great selection of cold sodas and fresh juice drinks in the fridge.

We also have a fine selection of domestic and Italian wines. If you're looking for something tasty to serve everyday with spaghetti, or a special bottle to impress that special person, you can definitely find it here. We taste everything in our handpicked selection before we put it on our shelves for you.
Great Wine And Beer Links
Learn about Cooking With Wine.
Here's a primer on matching beer with food and cigars.
Nondrinking guests? Here's what to do. Serve them delicious nonalcoholic drinks with dinner.
More recommended wine links from Bay Gourmet.