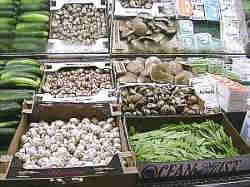 Giovanni's Produce
Our produce is fresh and direct from local farmers, featuring seasonal specials on fresh fruits and vegetables. Feast your eyes (and your stomach) on juicy raspberries, ripe red tomatoes, crisp apples and tender asparagus. And such a bargain too! We handpick all our fresh produce from small farmers and local suppliers, because we care about our customers and the quality of what we sell. We often have great bargains in produce, because we keep an eye out for exceptionally good crops and pass those savings on to you.

Here's a luscious recipe for a polenta melt with cheese and ripe tomatoes. Take full advantage of our ultra-fresh produce selection in your kitchen - visit the Epicurious recipe archive and find some great ideas for dinner tonight.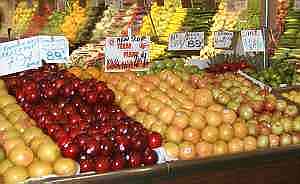 Here's a Store Map and driving directions.