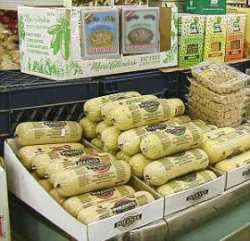 5-Minute Polenta Melts
1 package ready-to-eat polenta
3 large fresh tomatoes
1/4 lb ricotta cheese
1/4 lb cheese from the deli
1 clove garlic
Fresh basil for garnish (optional)


These towers of golden polenta have a warm, bubbly treasure hidden inside. They take about five minutes to prepare, then another ten minutes to bake. Then, it's bon appetit!

Start out your shopping tour of Giovanni's in the produce section, where you can select from ripe local tomatoes, Swedish hothouse vine tomatoes and delicious, bright red Romas. Pick three of the best. Handle them carefully to avoid bruising, and note their subtly different odors and textures when they are fully ripe and ready to eat. Pick up a few conveniently pre-peeled cloves of garlic as well, and if you're feeling fancy, a bunch of fresh fragrant basil.

Next stop - the deli and refrigerated section. Pick up a container of ricotta cheese, and take a look in the deli counter to see what other kind of cheese appeals to you today. A soft, luscious Brie? A pungent Danish blue? A smoky Gouda or Gruyere? If you're in doubt, ask one of the experts behind the counter to advise you.

A quick stop by the Italian specialty shelves will net you a huge "sausage" of vacuum-packed, ready to eat polenta. That's it - now you're ready to head home and start cooking.

Preheat your oven to 350 degrees. Slice the polenta into two to three inch thick rounds. Remove a thin slice (about a quarter inch) from the tops of these rounds and set aside. Using a melon baller or a small spoon, hollow out the rounds. Reserve the polenta scraps.

Fill the polenta rounds with a mixture of the cheeses you selected, add a little crushed garlic, and cover with the top slice of polenta and a generous slice of tomato. If you're feeling ambitious, you could also add some mushrooms sauteed in butter, chunks of fresh or sun-dried tomato, olives or fresh basil. Top the tomato slice with more cheese, and slide the rounds into the oven.

Bake for about 10 minutes or until the cheese on top is appetizingly browned and bubbly. Serve with fresh tomato slices and a basil garnish.

Adding a good, hearty canned spaghetti sauce to this dish can make it into a full dinner. Try a delicious Caesar salad on the side to complement this tasty dish.
Bonus recipe: Soft Polenta Scramble
Got some leftovers from that delicious vegetarian dinner recipe? Use them up the next morning with a soft polenta scramble.
Polenta scraps
Tomato leftovers
3 Fresh eggs
1/4 cup milk or fresh cream
1 tbsp onion or garlic, finely chopped

Beat the eggs with a little milk or cream. Roughly chop the polenta and tomatoes into small dice and add to the eggs. You can also add any fresh or dried herbs that appeal to you. Sautee the onion or garlic in sweet butter for a few minutes before adding the polenta and egg mixture to the pan. Scramble until the eggs are thoroughly cooked. Serve with a garnish of sour cream and basil.
Ready for some more quick and luscious recipes from Giovanni's? Try Panettone French Toast or Giovanni's Rich Caesar Salad.
Store Map and driving directions.