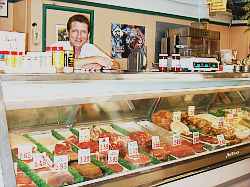 Rick's Quality Meats & Deli
Welcome to your friendly neighborhood butcher store, Rick's Quality Meats in El Cerrito. We're located right inside Giovanni's Produce with a mouthwatering selection of the finest meat, cheese, seafood and deli. Come check out the marbling on our Harris Ranch prime and choice beefsteaks, taste a sampling of our local and imported cheeses, and try our delicious housemade sausages.

Need some picnic takeout? We've got the best old fashioned sour pickles, potato salad and sliced pastrami, and we'll even make that up into a sandwich for you if you like. And if it's dinnertime and you haven't got a clue, just pick up one of our juicy, perfectly browned spit-roasted chickens. Serve it up with a green salad and some crusty Italian sourdough bread from Giovanni's, and you've got yourself a great dinner in just a few easy minutes.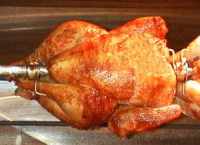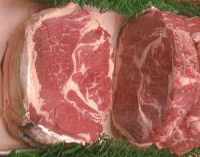 Got a question for the butcher? Call us at (510) 233-9390 and ask whatever you like. We're the meat experts - we can advise you on the best way to prepare a roast, sear a steak, grill your seafood or find a low-calorie sausage recipe. Better yet, come on down and say hello. We're located at 1600 Liberty Street, right at the corner of Potrero, in El Cerrito. Here's a store map and driving directions.