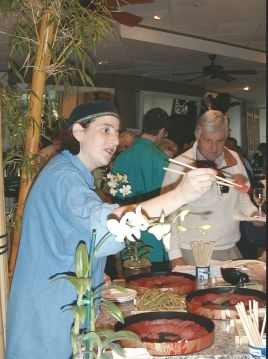 "My training was European. But my soul gravitates towards Asian cuisine," the 38-year-old Executive Chef and owner of Oodles readily admits. "That's the special opportunity I have with this restaurant. I cook exactly as I like and educate diners in the process."

And what Elka likes is what she calls "Asian bistro" food. "It's not `fusion' cuisine which is so popular today. It's all about combining traditional French technique with Asian ingredients - and intuition - to create combinations that surprise, tantalize and delight."

"My goal is to create dishes that are achingly good. I want to produce an experience that resonates with each customer. I want them to think about a dish for a day, a month or even a year after they've dined at Oodles.

"Sure, this is still serious cuisine. But I want people to have fun. I want them to leave buoyant and excited, because that's how I want to come to work every day."

"This is an exceptional venture for me because it's very personal. I've been cooking this way a long time, but I haven't had a venue in which I could focus and present my cooking without an executive committee, room service, catering and all the hassles that go along with being Executive Chef at a hotel."

Elka's road to Oodles winds through more than 26 years of professional cooking. And the route is charted with the culinary world's top awards.

She started at the age of 11 in her hometown of Austin, Texas, where she secured a position as dishwasher at Cafe Camille, a small French restaurant. "I lied about my age to get the job," she confesses. "But I loved the excitement of the kitchen. And once I discovered good food, I found that I had a natural inclination to cook."

At age 14, Gilmore entered an accelerated studies program at the University of Wisconsin at Madison. By her senior year, at the age of 17, she was the afternoon cook at L'Etoile, which remains the cutting-edge fine dining restaurant in downtown Madison. Upon graduation in 1978, she moved to Boston, where she cooked at Romagnoli's Table and Rebecca's.

In 1981, Gilmore served a six month apprenticeship in the south of France at the Lou Callen Inn in the village of Cotignac. There she learned classical French cooking firsthand.

She moved to Los Angeles in 1982 to open Camelions and made her name with a menu derived from her experience in French and Italian cooking. After six successful years at Camelions, Gilmore became partner and Executive Chef at Tumbleweed in Beverly Hills, where she recieved glowing reviews from the local and national press for her Texas style barbecue and authentic Mexican seafood cooking.

In 1991, Elka moved up to San Francisco, first to Elka and then to Liberte, which were named by Esquire magazine among the nation's "Best New Restaurants" in 1992 and 1994 respectively. Elka was named "Rising Star Chef" by San Francisco Focus magazine. The following year, she was nominated by the James Beard Foundation as 1994 California Chef of the Year and named to the Robert Mondavi List of Culinary Excellence.

In October of 1995, Elka was lured temporarily away from San Francisco by the opportunity to become Executive Chef at the newly renovated Omni Berkshire Palace Hotel in Manhattan. There she created and launched Kokachin, a French-Asian fine dining restaurant where she won acclaim from the New York Times and food critics from around the country. A writer for Gourmet magazine observed, "Elka demonstrates an unmitigated attention to detail."

In 1998, Elka launched Oodles in San Francisco as the ultimate expression of her experience, expertise, talent and passion.

In addition to the awards cited above, Elka has been awarded with eight Culinary Foundation gold medals, three First Place finishes in the California Seafood Challenge and a second and third place finish in the American Seafood Challenge.

A strong advocate for supporting and nurturing the careers of women food service professionals, Elka was a founding board member of Women Chefs & Restauranteurs (WCR), an organization committed to promoting the education and advancement of women in the restaurant business.

Elka gives her time to a wide variety of causes including Meals on Wheels, Project Open Hand and Stanford Children's Hospital, where the Elka Gilmore Play Kitchen outfitted for cooks age 5 and under is a tribute to her fund-raising efforts on behalf of the Children's Hospital.