The Blasphemous Birthday Dinner
A Tale With Some Truth, Copyright © 1997 Tanith Tyrr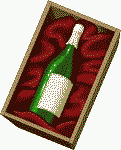 On the occasion of a birthday I won't discuss the exact year of, my very significant other chuckled devilishly at me as he told me he had arranged a birthday dinner surprise for me that he knew I would enjoy greatly.
I eyed him dubiously. We had no money to eat out at a serious restaurant, and for two reasons, I don't generally make a habit of eating at restaurants of more affordable quality.
I'm a highly dedicated gourmet chef, and I can retroengineer almost any exotic dish from restaurants of stratospheric price range with results equal to or better than the original kitchen. My signature dishes are better than that.
OK, so I'm not modest, but I'm explaining why I see no point in eating out at most restaurants. Dinner at home is not only cheaper, it's likely to be drastically better, and there will be more of it. If you've ever paid money for a plate purporting to be dinner and consisting two pea pods and a strip of prosciutto arranged in an artful manner with a dab of attractively colored sauce, you'll know what I mean. It may be art, but is it dinner? Me, I think that chefs who wanna fingerpaint sauce on a plate and sprinkle teeny bits of artistic substances on top should go take a watercolor class and leave hungry diners alone.
The second reason I do not eat out at restaurants which are not staffed by skilled and creative chefs who are finicky—nay, downright anal retentive —about everything that goes into their creations is the heart of this particular tale. I suffer from an unpleasant allergy to an incredibly common product—soybean oil. This inexpensive and ubiquitous substance shows up with the annoying regularity of a health nut on bran and prune juice at every single chain restaurant and greasy spoon in America. Why? It's the government's fault, primarily, because the soybean is federally subsidized as a crop and can thus be sold for less money than almost any other commercial food grade oil.
In any case, the result is not good for me when I am far from home and Calphalon and seeking edible subsistence. I habitually travel with beef jerky in the glove compartment and a bottle of Calistoga under the seat, and I would rather survive on such iron rations when hungry than risk being poisoned by inept waitstaff who do not know that a dab of margarine or commercial mayonnaise anywhere near my food will cause me serious physical suffering. No, I will not go into further details; they are unappetizing in the extreme.
Obviously, one does not live with another person in intimacy for some years without their gaining an understanding of their dining habits. So it wasn't as if the Significant Other didn't know all of these pertinent little facts. I blinked. "You're...um...going to cook?"
OK, so the tone in my voice wasn't tactful or nice, but we both know that he can't cook. He laughed some more. "No."
I was stumped, so I tried guessing. "You won the lottery so we could afford to go out to a real restaurant, or you found one of those really-cool-but-cheap spots and they let you run through their kitchen with a magnifying glass?"
He shook his head. "Wait and see. I know you'll be hungry after class."
Boy, was that an understatement. Monday night at the kung fu studio is traditionally The Workout From Hell, and tonight I was testing to move up a rank. Plus the school was closing that night for a week to remodel, and it didn't take a call to the Psychic Friends Network to figure out that Sifu was probably going to give us something we would be remembering for at least that long.
You don't, repeat, don't, eat just before kung fu class in a hardcore school. It's dumb. Actually it's worse than dumb, it's dumb and ugly. You know what I mean if you've ever done it. On kung fu nights, I have no breakfast and a light lunch, preferably a little raw fish and rice. Or breakfast and no lunch. The one time I broke this rule, I was lucky to....well, I did say I'd spare you the unappetizing details.
So, after kung fu class I'm usually starving, at least when the rest of my body stops yelling loud enough to drown out the little voices in my stomach. When I limped out of class with a couple of new bruises in places I wouldn't show to a male instructor, my sweetie was waiting right outside to hand me a chilled bottle of iced tea. I made some incoherent noises as I chugged half of it. I think I said "Dinner."
He grinned. "And you don't even have to dress up for it." This was good, since I had not showered since, oh, just before class, and I probably looked and smelled roughly like a herd of oxen having a bad hair day. I made some more noises, and he put me in the car. This was good, because I was way too fucked up to walk. "Turn left on San Pablo Avenue....now pull in right here."
I looked at him with about nine parts disbelief and one part dawning comprehension. "But this is the McDonald's parking lot."
He grinned. "Exactly." Turned out he'd scoured the health food and gourmet shops for various convincing substitutes for the parts of a McDonald's hamburger that contained any soybean oil, to wit, the Special Sauce and the buns. He'd also convinced the manager to clean the griddle of all soybean oil to fry the burgers, and to make up some special orders for me with his ingredients. The boy can't cook, but he is not any kind of dummy, and my habit of reverse engineering fancy gourmet dishes from four-star restaurants had given him the idea.
Ye gods, I hadn't been able to just scarf down a Big Mac for more years than I really like to think about, and damn, I used to love those suckers. It took....never mind the unappetizing details of what it took to convince me that I could not, ever, cheat on my allergy and eat a Big Mac anyways. Suffice it to say that it took quite a bit, and I mourned these lost delicacies for a very long time while desperately trying to avoid the tempting smell of a Mickey Dee's. People who want to live long do not eat McDonald's food in my presence. Why the idea of retroengineering a safe Big Mac for myself had not occurred to me years ago I don't know. Even a gourmet chef has weaknesses and blind spots about food, I suppose.
"So, how many do you want?"
I grinned back at him toothily. "Six. Four Big Macs, two Quarter Pounders, and don't forget to get something for yourself." He chuckled, and I hastily amended, "Most of it's to go, of course. I'll eat it over a couple of days."
"Of course," he echoed, pretending not to believe me. I smacked him on the butt with a totally unorthodox maneuver that my kung fu teacher would not have recognized or approved of, and he went to get the loot.
When he returned, I thought for about three seconds about going home to enjoy the delicacies in civilized surroundings, but then he opened the bag and the indescribable perfume of the sandwiches grabbed my nose with all the subtlety of a B-grade Japanese monster flick and didn't let go. You will know exactly what I mean when you are stranded on a desert island where you must eat wichitty grubs and seaweed for ten years, and then a rescue plane scoops you up and takes you directly to a restaurant you've been having wet dreams about for the whole time you were stranded. One of the sandwiches somehow vanished on the spot. I'm still not quite sure where it went; I think that under the stress of the moment, I may have suddenly developed heretofore unknown psychic abilities and teleported it directly into my stomach. Dionne Warwick, eat your heart out.
The rest of the booty almost survived the arduous three mile journey home, except that somehow most of a Quarter Pounder disappeared from its box along the way, a casualty of the expedition. Heroically, the french fries made it home more or less intact. Brave, brave soldiers.
As soon as we stepped in the door, my foodie mind went into high gear. I was about to enjoy the rarest delicacy I could imagine, better than caviar or fusion cuisine or any classic French creation, a food I had been craving for years and had given up as forever out of my reach. There had to be a wine in my cellar good enough to go with it. I summoned up taste memories of specific vintages in my mind and overlaid them with the haunting, evocative memory of munching Big Macs as a teenager. Bingo. I had it.
I think the talent that lets me recreate almost any dish I can taste once is simply a very strong memory of flavors and an intuitive understanding of how two or more seperately remembered flavors will interact together. Given that I know the end result, and I know what I need to be able to get to that result, getting there is trivial. It's cleaning up the kitchen afterwards that's the hard part, and for that I get volunteers.
This time, I wondered if my talent had done me wrong, but I shrugged and figured that at worst, I'd open up something else and save the original bottle for dessert. The faint undertone of sweetness along with the savory richness of the fried meat and sauce wanted an older Sauternes, one that had traded in most of its fruit for some real savor, body and the almost cognac-like essence of pure distilled power. The '61 Chateau d'Yquem I'd had at the last serious tasting dinner I hosted was a bit too powerful and would have drowned out the relatively simple dish, but that was the general direction my palate wanted to head in. Even despite vivid visions of a lynching party made up of wine snobs dressed in tuxedo and ties and determined to hang me from a very tall grape arbor.
Poking around in the cellar. Monbazillac Theulet, too fruity and too young. '88 Sigalas Rabaud? No, too sweet and still too young, but on the right order of power for what I'm contemplating. Aahhhh, here we go. 1975 Chateau Sigalas Rabaud. Perfect.
And it was. The wine had enough body, power and savor to stand up to a concoction of fried meat, rich, tangy sauce and faintly sweet sesame bun, and the undertones of honeyed fruit were not lost. Its nose was a bit closed and dumb at first, but opened up beautifully in the glass to reveal the cognac-like concentrated qualities of an aged Sauternes along with some very pretty undertones of honeyed fruit. Mouthfilling and satisfying, with some complexity, real power and a pleasant finish.
And best of all, it went great with a Big Mac. Worst of all, you had to wade through all this nonsense to get to the wine review.
I warn you, however, that I will be keeping the sharpest eye out for large and raving groups of individuals dressed in a formal manner with ropes in their hands at my doorstep. In addition, there is no grape arbor to be found anywhere on my property.
A sante,
Tanith Tyrr
---

Amusing quote of the day "Peel back the foreskin of assumption and apply the stiff wire brush of reality."

---